Environment-friendly Activities
Environmental Education for Children
We launched Green Energy School with the Korea Green Foundation in 2012. The program teaches elementary school students about the gravity of climate change and better ways to use energy.
Beneficiaries students (2012~2019) : 15,861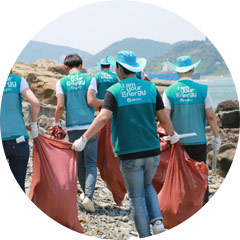 Conservation of Marine Resources
Every GS Caltex worksite is actively engaged in local conservation efforts. In areas like Incheon and Yeosu, we help clean up the neighborhood and beaches near factories.
Marine Resources Protection
GS Caltex has been releasing abalone spats into the waters of Yeosu since 1996. This is a long-term project aimed at protecting depleted coastal and marine resources and increasing the income of fishermen.