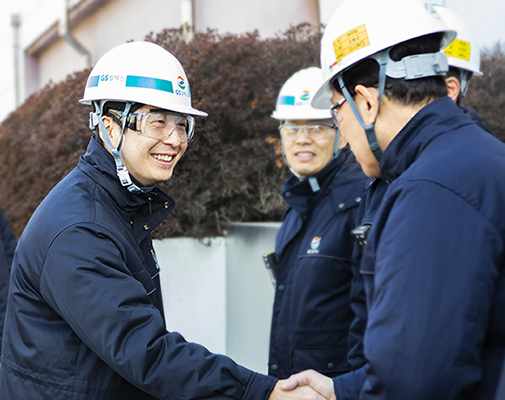 President & CEO, GS Caltex Corp

"We will deliver new experiences and value through
Energy Plus, the embodiment of our will to
change and expand as a total energy company."
Welcome to the GS Caltex website.
A total energy company taking proactive action in response to future changes in the environment
To realize our vision of becoming the most respected energy and chemical company based on industry-leading competitiveness, GS Caltex is actively preparing for a future brought on by changes in the energy and mobility environment.
To further expand the possibilities of future energy, we aim to build on our existing petroleum-focused business structure to attain the competitiveness of a total petrochemical company, starting with the mixed feed cracker (MFC) for the highly scalable olefin business.
This involves turning our existing network of fueling stations into future-oriented service stations and integrated lifestyle complexes, and expanding our business into diverse eco-friendly energy sources such as by increasing electric and hydrogen vehicle charging services. To this end, we are taking the initiative in partnering with leading companies to build a successful value chain and achieve carbon neutrality.
Competitiveness built by continually challenging ourselves
The driving force behind our preparations for the future comes from the competitiveness we have built up since the establishment of GS Caltex in 1967.
GS Caltex operates the world's fourth largest single-site oil refinery, with a refining capacity of 800,000 barrels per day. Through our world-class production facilities and technology in petrochemicals and lubricants, we contribute to the stable supply of energy in Korea. What's more, we help power the country's economic development through exports, with over 70 percent of our revenues derived from exports to some 60 countries.
Activities to achieve sustainable growth
Under the banner of Energy Plus, representing our commitment to change and expansion as a total energy company as well as our determination to embrace innovation and new challenges, GS Caltex seeks to provide extensive experiences and value never encountered before, to create new value and lead the future.
In all our business activities, GS Caltex will strictly abide by social rules and principles concerning human rights, fair trade, safety and environment, and continue to strengthen our ESG capabilities and practice ethical management.
I ask for your unwavering support and encouragement as GS Caltex continues on our journey to become a total energy company with global competitiveness.
Thank you.