Expanding the possibilities of energy,
GS Caltex's Energy Plus brand
integrates future-oriented businesses
that embody our determination to evolve and grow as an energy company.
Adding spatial value to energy

Complex development by Energy Plus to provide new value to customers and society
Adding mobility & life to energy

Energy Plus Hubs, the future-oriented fueling stationsthat combine mobility
infrastructure and lifestyle services
(EV charging, hydrogen charging, micro-mobility, logistics hub services, etc.)
Adding digital capabilities to energy

Automatic vehicle recognition and simplified payment for
greater convenience through Energy Plus mobile services
(Bitcoin recognition, Naver Pay/Kakao Pay/Payco/Zero Pay, and other online payment services)
Adding benefits to energy

Energy Plus credit card offering differentiated benefits to customers
Adding eco-friendly value to energy

Lower carbon businesses and products that enable a sustainable circular economy
Circulating and expanding energy organically in everyday life.
Energy that steers our lives toward a better future.
These are the values Energy Plus strives to achieve.

We are adding energy to your life through new experiences and
values in all variations of energy from its material, physical form to
the intangible energy that transpires in our lives and society.
Brand Identity
Significance of the Logomark
The combination of the 'e' from energy and the plus circle icon represents energy that is expanding and transforming beyond the confines of traditional energy sources. The new green color evokes nature, growth, and hope. It is also a shade that goes well with all other colors, signifying a harmonious balance between the company, people, and environment as well as a new beginning.
Logotype
The logotype was designed to complement the logomark and cannot used if altered arbitrarily.

Signature
The signature combines the logomark and logotype following fixed guidelines and cannot be used if altered by arbitrarily combining the different parts.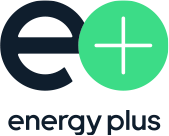 < Signature - Vertical >
< Signature - Horizontal >
< Signature - Vertical >
< Signature - Horizontal >