All employees strive to realize the GS Caltex Vision guided by the corporate values (Trust, Flexibility, Challenge, Excellence) and core behaviors(Proactive, Collaboration, Performance-driven) set forth in the GSC Way.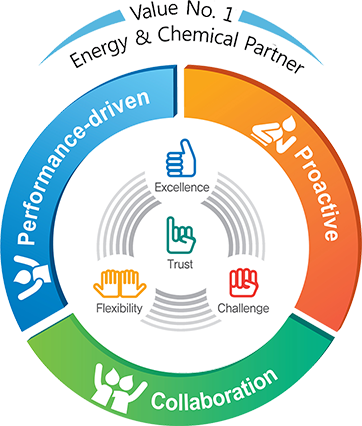 Corporate Values
Trust

Fulfill one's role, and trust and respect one another.
Flexibility

Welcome diversity with an open mind and
behavior.
Challenge

Set high goals and pursue them aggressively.
Excellence

Strive for excellence in individual and organizational performance.
Core Behaviors
Proactive

Think ahead and be the first to act.
Collaboration

Strategically utilize internal and
external resources and capabilities.
Performance-Driven

Deliver tangible results.