Maum Talk Talk
Maum Talk Talk is an group art therapy initiative that helps children through the medium of visual arts, dance, music, theater, and more. Programs are designed to improve self-esteem and social skills in children who face emotional and psychological challenges in dealing with school life and peer relationships.
Beneficiaries 18,504 students (2013~2019)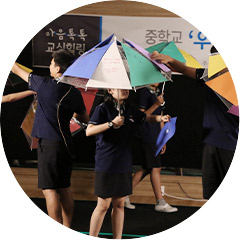 Healing Class
We offer an art therapy program in partnership with the Ministry of Education and groups like the Korea Education Corps. All first-year student of middle school learn how to avoid and respond to peer problems.
Beneficiaries 5,043 students (2013~2019)
Counseling for Victims of School Violence
We work in partnership with the Ministry of Education and groups like Association for Victims and Families of School Violence to help students overcome the trauma of school violence and return to school.
Beneficiaries 260 students (2018~2019)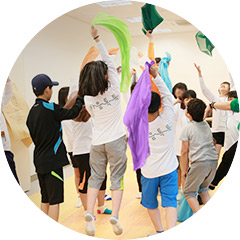 Counseling at Good Heart Center
We run an art therapy program for elementary and middle school students who need emotional and psychological counseling in cooperation with some twenty Good Neighbors' Good Heart Center branches nationwide.
Beneficiaries 6,034 students(2013~2019)
At-risk Youth Counseling
We offer a group therapy program that uses art to help integrate troubled youth back into society. The program is open to juveniles under probation or those released with conditionally suspended indictments in Yeosu and Suncheon.
The program is organized in partnership with the Suncheon Branch of the Gwangju Prosecutor's Office, Ministry of Justice's Law-Loving Committee (Jeonnam Dongbu chapter), and Ewha Womans University's Music Therapy Department.
Beneficiaries 364 students (2016~2019)