Yeosu Activities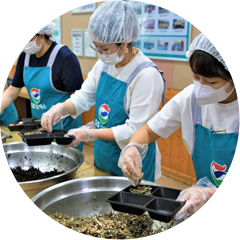 GS Caltex Soup Kitchen for Elderly
2We have been operating the GS Caltex Soup Kitchen for Elderly for low-income senior citizens in the Yeosu area since 2008.
Every weekday from Monday to Friday, we provide lunch to some 350 senior citizens on a daily basis. The meal is served by volunteers from dozens of smaller volunteer groups whose members are GS Caltex employees and spouses as well as former employees.
Beneficiaries people (2008~2019) : 945,731
GS Caltex Hopeful Energy Class
GS Caltex Hopeful Energy Class provides a diverse range of experiences to inspire students' dreams and visions. The program is offered to elementary and middle school students at the Yeosu Children's Welfare Center.
Beneficiaries students (2010~2019) : 4,519
GS Caltex English Classes in remote Islands
GS Caltex English Classes in remote Islands aims to bring foreign language studies to students living in the remote islands of Yeosu. We appoint a native speaker instructor to live on one of the islands and rotate lessons at elementary and middle school in Nammyeon and other isolated areas of Yeosu.
Beneficiaries students (2018~2019) : 2,809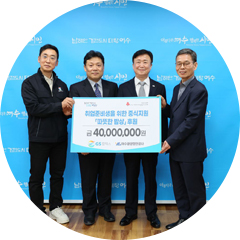 Support for the Talented Youth of Yeosu
GS Caltex is committed to helping alleviate unemployment in our communities, notably in Yeosu.
We were the first company in the Yeosu Industrial Complex to adopt affirmative action hiring for Yeosu citizens. We signed an MOU with Yeosu City in 2017 and the agreement went into effect in 2018.
Also in 2018, we began supporting the Warm Meals for Youth job seeker
Nationwide Activities
Nationwide CSR activities offer aid to job-seekers, children from multicultural homes, low-income victims of traffic accidents, and victims of emergency and disasters.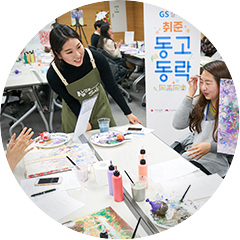 GS Caltex Support for Job-Seekers
In 2019, we began organizing a workshop camp for job-seekers in partnership with Korea Mecenat Association. The 3-day camp provides both emotional support and pragmatic advice to help participants navigate the job market.
We held three camp sessions attended by 000 job-seekers in 2019.
Beneficiaries youths (2019) : 336
Legal Support for Low-income Victims of Traffic Accidents
Since 2017, we have been supporting low-income victims of traffic accidents who need to file lawsuits for damages suffered. We help them receive advice from the Korea Legal Aid Corporation and find pro bono legal representation.
Emergency and disaster relief
We offer emergency and disaster relief assistance in aid of people affected by typhoons, floods, earthquakes, fires, or other disasters.

Support from GS Caltex takes a variety of forms, from donations to disaster relief funds and emergency supplies to trauma therapy for children.