Volunteer Activities
We launched the GS Caltex Volunteer Group based out of Yeosu where our main work site is located. Employees committed to 'love' and 'sharing' are actively involved in volunteer activities as members of the local communities. GS Caltex opened the One - Heart Fund in 2005, matching employees' individual donations to finance social contribution programs. We hope to disseminate a culture of sharing and giving through the collective efforts of our employees.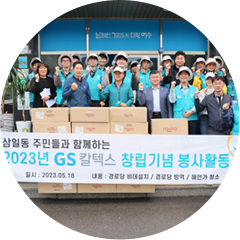 GS Caltex Anniversary Volunteer Activities
Every May since 2004, we have been carrying out volunteer activities at worksites throughout Korea, including Seoul and Yoseu, to commemorate the founding of GS Caltex.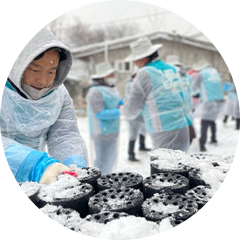 Year-end Volunteer Relay
Our employees participate in a year-end relay of volunteer activities to help residents in marginalized neighborhoods. The annual event began in 2005 and spans Seoul, Yeosu and beyond.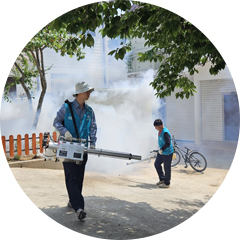 Individual Volunteer Activities
GS Caltex has volunteer groups in seven locations organized out of Yeosu Complex and various distribution centers nationwide. They work closely with local residents on community-based volunteer projects.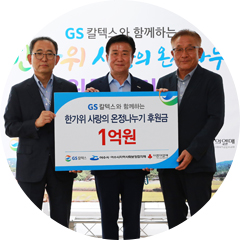 Holiday Season Volunteer Activities
GS Caltex hosts annual events during the holidays. On New Years Day, we provide tteok (traditional rice cakes), at Sharing Love Soup Kitchen. During Chuseok, we support 'Sharing the Warmth of Love,' an event for senior citizens who live alone in the Yeosu region.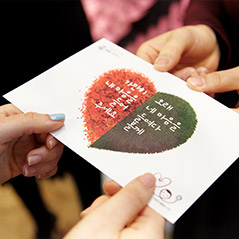 Donations from Employees to Maum Talk Talk, et al.
GS Caltex not only provides assistance to public institutions, we also encourage a culture of giving within the company. In 2005, we instituted a designated donation system whereby we match employees' donations to public welfare organizations or schools so the recipients receive twice the amount. Maum Talk Talk, our representative CSR initiative, is funded by donations from employees which go toward art therapy programs for children.